Knit North – A residential knitting weekend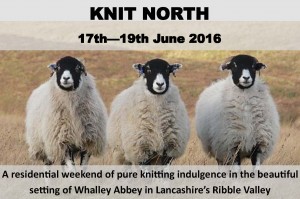 We all know people who have gone on golfing weekends or writing retreats or walking holidays and why should knitting be any different? We've designed a knitting weekend for you to indulge all your knitting senses. Come with a friend, or come and make new friends. It's up to you how involved you get or not. Treat yourself to some you-time. A whole weekend to pore over beautiful local yarns, swap your own yarn for someone else's discarded treasures, crack a technique that has been eluding you for ages.
There'll be practical workshops from knitting experts and we'll be getting local spinners, dyers and
farmers involved too so you can experience the best the North has to offer knitters.
DOWNLOAD THE FINAL: KNIT NORTH WEEKEND AGENDA
Kate Heppell – editor of Knit Now and knitting lovely lady – will be giving a workshop on designing your own Fair Isle hat!
Janet Phillips, of the Threshing Barn, will also be giving us a workshop called –  " YARNS TO DYE FOR"  A fun demonstration useing our wonderful acid dyes called Gaywool Dyes from Australia on a selection of different hanks of wool.
Additionally you can use it as an opportunity to clear out your stash and swap yarn with the other Knit Northers.
The Knit North weekend will take place in Whalley Abbey – accommodation and workshops are all under the one roof here. The Abbey has gorgeous grounds to wander about it and we're in the heart of the beautiful Ribble Valley and a stone's throw away from the mysterious Pendle Hill.
Did I mention the goody-bags…? A glorious, exclusive and surprise goody bag will be waiting for all Knit Northers..!
DETAILS:
Arrivals:
Friday 17th June

 at tea time with tea and scones waiting for you!
Departures: Mid afternoon on

Sunday 19th June


Cost: Approx £250 per person – this includes all workshops, presentations and meals from Friday evening to Sunday afternoon and two nights in the Abbey.

DAY DELEGATES – £35 each day. This includes the workshops, presentations and a lunch. Please email if you are interested in attending as a day delegate.
BOOKING NOW OPEN!!!!
To register your interest and to keep up to date with news as it happens – join the Knit North Ravelry Group or email me: charliebuttonknitkits (at) gmail (dot) com