What is a yarn swap?
Exchange your unwanted knitting/crochet wool for someone else's unwanted knitting/crochet wool and hope they have better taste than you…
How it works is like this..
You bring wool/yarn you no longer want and exchange it for tokens based on the quantity and quality of what you've brought.
We all have a tea or coffee from the Cafe while the piles of wool are sorted into type ('Yarn de luxe', 'That'll do nicely' and 'I do like bright acrylics…')
Half an hour later we open up the swapping so people can exchange their tokens for other people's yarn.
If anyone wants to buy a token there will be the option to do so. Any money raised or yarn left over will be donated to charity.
The last one: Was on May 10th at the Town Hall in Oxford. I was really pleased with the turn out and amazed at the amount of yarn that got brought. We had to expand from 3 apple crates to three trestle tables!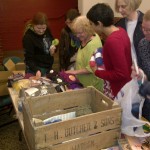 The next one: We'll probably try for another in September so keep checking back here or keep an eye on the Ravelry group. Drop me an email (see contact page) if you want to know more or be involved!
For more information please visit: http://www.ravelry.com/groups/yarn-swap-oxford (you'll need to be a member of Ravelry)